AirPods Max feature incredible high-fidelity audio, Adaptive EQ, Active Noise Cancellation, and spatial audio
That's the logo Apple wrote when introducing it.
When will the AirPods Max be available for purshase?
December 15, 2020
How much does the AirPod Max costs?
AirPods Max are available to order starting today for $549 (US) from apple.com and in the Apple Store app in the US and more than 25 other countries and regions. AirPods Max will begin shipping on Tuesday, December 15.
AirPods start at $159 (US) and AirPods Pro are available for $249 (US).
The good news:
For all who were waiting for this master piece, it's about to be out for purchasing.
The bad news:
It's expensive, very expensive for a headphone!
What iOS do I need to use AirPods Max?
AirPods Max require Apple devices running iOS 14.3 or later, iPadOS 14.3 or later, macOS Big Sur 11.1 or later, watchOS 7.2 or later, or tvOS 14.3 or later.
In how many colors does the AirPod Max comes?
It comes in 5 colors:
What makes the AirPod Max so expensive?
The price is very high and this is not even suitable for gaming, it's more for comfort and media. These are the features it has:
Adaptive EQ
Active Noise Cancellation (ANC)
Transparency mode
Spatial audio
20 hours of battery life
How long did the AirPods Max Development Took?
According to Former Apple Engineer, it took 4 Years.
It began way back in early 2018, when the first mention of own-brand headphones appeared courtesy of Apple analyst Ming-Chi Kuo.

However, the timeline of their development apparently extended much further than that, based on now-deleted tweets by former Apple engineer Dinesh Dave (@appleidinesh).
Ryan Jones was able to capture images of the tweets and re-share them after they were removed.

How's the audio on the AirPod Max?
AirPods Max feature a 40-mm Apple-designed dynamic driver that provides rich, deep bass, accurate mid-ranges, and crisp, clean high-frequency extension so every note can be heard. A unique dual neodymium ring magnet motor allows AirPods Max to maintain total harmonic distortion of less than 1 percent across the entire audible range, even at maximum volume.1 Equipped with an Apple-designed H1 chip in each ear cup, a custom acoustic design, and advanced software, AirPods Max use computational audio to deliver the highest quality listening experience possible. Utilizing each of the chips' 10 audio cores — capable of 9 billion operations per second — computational audio powers a breakthrough listening experience that includes Adaptive EQ, Active Noise Cancellation, Transparency mode, and spatial audio.
Adaptive EQ: AirPods Max use Adaptive EQ to adjust the sound to the fit and seal of the ear cushions by measuring the sound signal delivered to a user and adjusting the low and mid-frequencies in real time — bringing rich audio that captures every detail.
Active Noise Cancellation: AirPods Max deliver immersive sound through Active Noise Cancellation so users can focus on what they are listening to. Each ear cup features three outward-facing microphones to detect environmental noise, while one microphone inside the ear cup monitors the sound reaching the listener's ear. Using computational audio, noise cancellation continuously adapts to the headphone fit and movement in real time.
Transparency Mode: With AirPods Max, users can switch to Transparency mode to simultaneously listen to music while hearing the environment around them — ensuring everything, including a user's own voice, sounds natural while audio plays perfectly. Switching between Active Noise Cancellation and Transparency mode can be done with a single press using the noise control button.
Spatial Audio: AirPods Max use spatial audio with dynamic head tracking to place sounds virtually anywhere in a space — delivering an immersive, theaterlike experience for content recorded in 5.1, 7.1, and Dolby Atmos. Using the gyroscope and accelerometer in AirPods Max and iPhone or iPad, spatial audio tracks the motion of a user's head as well as the device, compares the motion data, then remaps the sound field so it stays anchored to the device, even as the user's head moves.
How's the Battery and Performance on the AirPod Max?
AirPods Max feature great battery life with up to 20 hours of high-fidelity audio, talk time, or movie playback with Active Noise Cancellation and spatial audio enabled.2 AirPods Max come with a soft, slim Smart Case that puts AirPods Max in an ultralow power state that helps to preserve battery charge when not in use.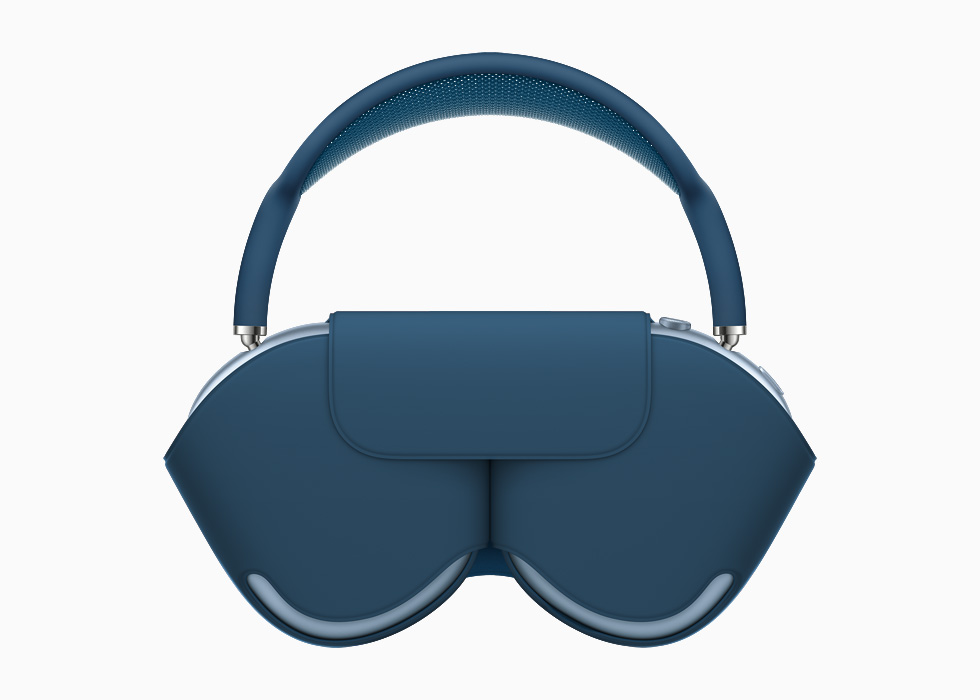 Additional Features of the AirPod Max
Automatic switching allows users to seamlessly move sound between iPhone, iPad, and Mac. When playing music on Mac, users can easily take a call on iPhone and AirPods Max will automatically switch over.
Audio Sharing makes it possible to easily share an audio stream between two sets of AirPods on iPhone, iPad, iPod touch, or Apple TV 4K. Simply bring AirPods Max near the device and connect with a single tap.3
Siri capabilities include the ability to play music, make phone calls, control the volume, get directions, and more. Siri can also read incoming messages as they arrive with Announce Messages with Siri.
Do the AirPods Max Contain U1 Chip for Ultra Wideband?
No. Apple's new AirPods Max headphones are not equipped with a U1 chip for Ultra Wideband, according to Apple's tech specs
How much does the AirPod Max weights?
It weighs 384 Grams which is heavier than most competing Over-Ear-Headphones. Here is some comparison:
AirPods Max - 13.6 ounces (384.8 grams)
Beyerdynamic Amiron Wireless – 13.4 ounces (380 grams)
Audeze LCD-1 – 8.82 ounces (250 grams)
Bose 700 – 8.78 ounces (249 grams)
Bose Quiet Comfort 35 II – 10.93 ounces (310 grams)
Sony WH-1000XM4 – 8.96 ounces (254 grams)
Sennheiser PXC 550-II – 8 ounces (227 grams)
Can I have AppleCare+ Coverage on AirPods Max and how much is it?
The insurance is going for about $59 when you buy it through the Apple store.
Every ‌AirPods Max‌ comes with one year of hardware repair coverage through its limited warranty and up to 90 days of complimentary tech support, but additional ‌‌AppleCare‌‌+ coverage gets up to two years of tech support and accidental damage coverage for the over-ear headphones from the purchase date.
AppleCare+ for AirPods Max adds up to two incidents of accidental damage protection every 12 months, each subject to a service fee of $29, plus applicable tax, and includes battery service coverage. In addition, customers get 24/7 priority access to Apple experts via chat or phone.